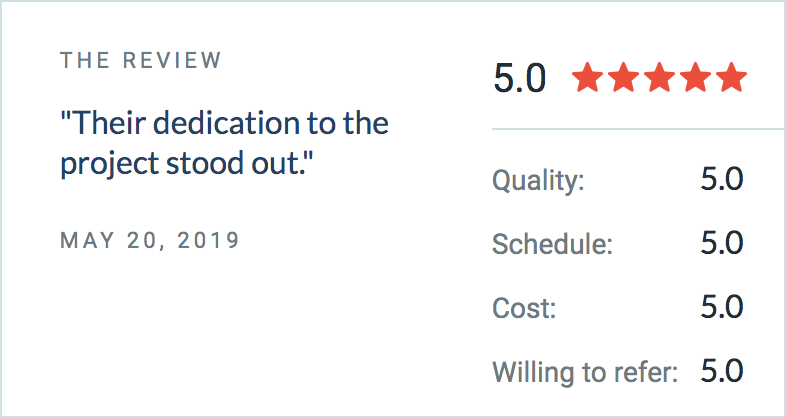 If curiosity is a key part of good software development, then we at Raving Bots are definitely experts. We are constantly curious at Raving Bots; we like to explore new and modern ways to merge cutting edge technologies to create excellent software.

Currently we are using a method which combines game development techniques and AI-related technologies. We have an extensive background in AI which allows us to provide immersive experiences in all of our software.
Our hard work has recently landed us a review on Clutch, a B2B ratings site which connects businesses through reviews. Our customer feedback and our unique design has landed us a title as one of the leading software developers in Poland!
We recently partnered with a wearable heartbeat sensor developer to create custom software for a VR prototype. We were hired as software support for one of their VR mobile projects. As a result, an innovative medical application for helping patients with chronic pain syndrome was created.
We helped deliver a unique platform according to their CEO! We were able to satisfy their wants while still creating an interesting and usable app.
Raving Bots offers capable and committed developers who follow an effective process.

Piotr Sobolewski, Ph.D. – CEO – The Knights of Unity
Though this is just one of our many completed projects, we wanted to share a recent accomplishment of ours. We love working in software development, especially when we can bring in our areas of expertise such as VR.
In addition, our work has been posted on one of Clutch's sister sites- The Manifest. The Manifest posts business news and tips and has ranked us as one of the 2019 leading software development companies in Poland!
You can also find Raving Bots on Visual Objects, a site for creative and visual design firms which has featured our portfolio items!
We want to make sure to thank our awesome clients who continue to bring us interesting and challenging projects! We are able to use our creativity and skills only because of you and your great ideas.
If you or your business is interested in unique software development of any kind, stop by our website to learn more about us!